[ad_1]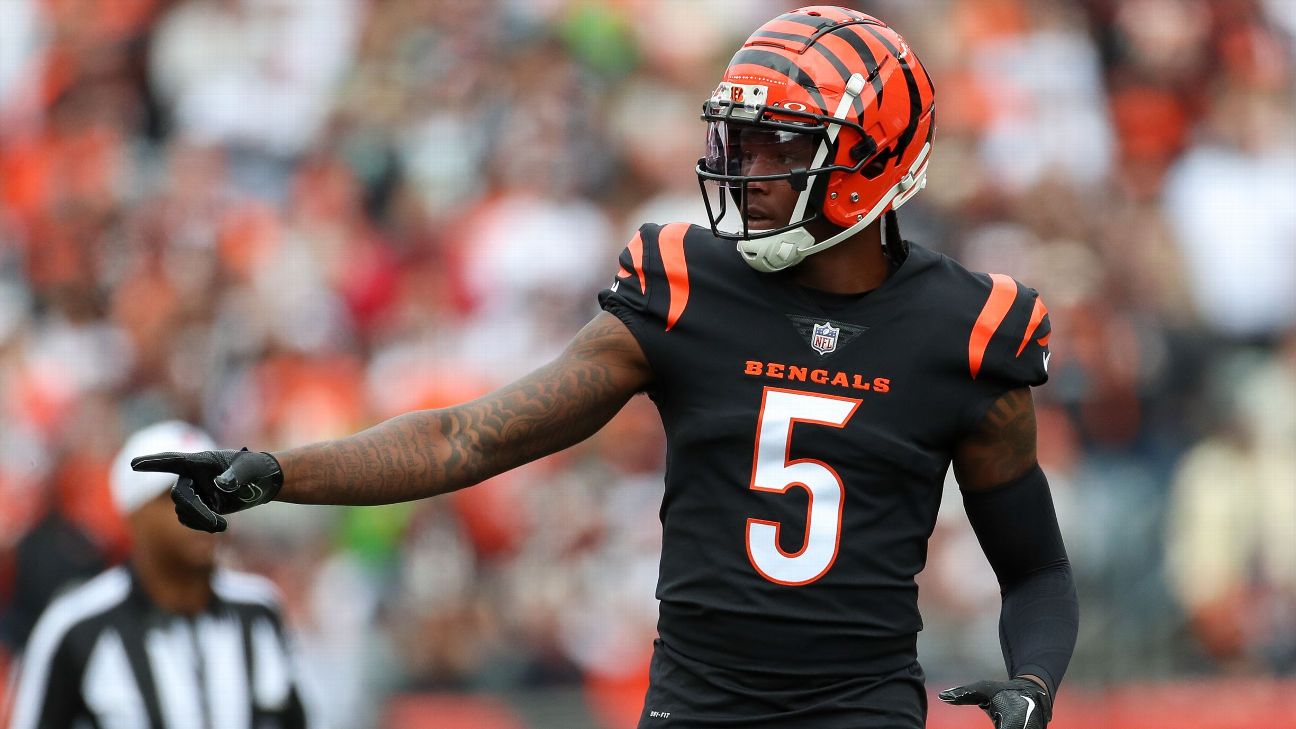 CINCINNATI — The Bengals will be without one of their top wide receivers in one of the team's biggest games.
Wide receiver Tee Higgins will miss his second straight game as he continues to deal with a hamstring injury. He did not practice all week and was ruled out on the game status report that was issued Wednesday.
The fourth-year player out Clemson did not play in the team's Week 10 loss to the Texans after he suffered the injury on Nov. 8 at practice. Earlier in the week, Bengals coach Zac Taylor said the tight turnaround presented a big challenge for Higgins and defensive end Sam Hubbard to face Baltimore at M&T Bank Stadium.
Hubbard, who didn't practice all week with an ankle injury, is also out for Thursday's game.
Cincinnati is also without wide receiver Andrei Iosivas. The sixth-round draft pick out Princeton has been absent all week with a knee injury. Two of the rookie's four catches have been for touchdowns.
That leaves Cincinnati without extra depth in the wake of Higgins' prolonged absence. After a slow start to the season, Higgins had his best game in a Week 9 win over the Bills, where he caught eight of nine targets for 110 yards. His other notable game came in Week 2 against Baltimore, when he had eight catches for 89 yards and both of his touchdowns on the season.
Earlier in the week, Bengals wide receiver Ja'Marr Chase said that any 1-on-1 matchups were limited with Higgins not playing in the 30-27 loss to Houston.
"All they were doing was playing their No. 1 corner against our No. 2 receiver and doubling me," Chase said.
The Bengals (5-4) are going up against a 7-3 Baltimore team that leads the NFL in fewest points allowed per drive. Bengals offensive coordinator Brian Callahan acknowledged the stakes facing Cincinnati on Thursday night.
"It's going to be a battle," Callahan said this week. "There's a lot on the line for these games coming up. I think it feels like a playoff game in November."
Cincinnati did receive some good news. Defensive end Trey Hendrickson, the team's leading pass-rusher who suffered a knee injury against Houston, will play against Baltimore.
[ad_2]

Source link