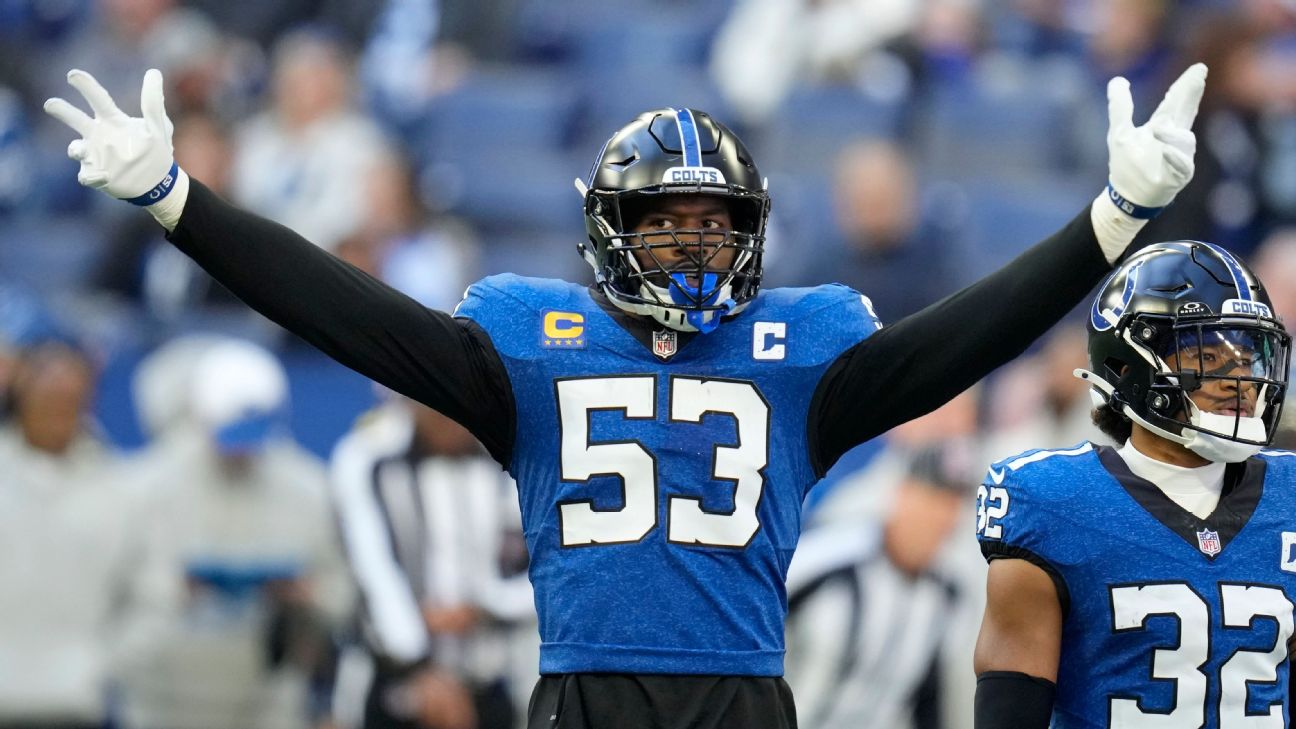 INDIANAPOLIS — When Colts linebacker Shaquille Leonard was informed his role would not be expanded even in the absence of injured starting middle linebacker Zaire Franklin in Week 9, it solidified for Leonard his diminished role in Indianapolis' defense.
And that has resulted in increased frustration for the three-time first-team All-Pro selection who is coming off two complicated back surgeries to repair nerve damage.
Leonard, the Colts' weakside linebacker, was told by linebackers coach Richard Smith that he would split reps on early downs and continue to leave the field on third down while backup Segun Olubi manned the middle the entire game.
"So that's when I kind of knew, and it sucked hearing that," Leonard said Thursday. "You're already not playing on third [down]; you're taking the reps on second down too? So it's very heartbreaking to get that, but it is what it is."
Leonard, the 2018 NFL Defensive Rookie of the Year, believes he is close to returning to his old form after his injuries, even if defensive coordinator Gus Bradley and his staff appear to disagree.
After playing no less than 93% of defensive snaps in his first four seasons, Leonard has played just 70% of snaps this season. And in Sunday's win over the Panthers , Leonard saw action on only 55% of snaps despite the absence of Franklin, the NFL's leading tackler.
Leonard insisted he was capable of playing middle linebacker Sunday, saying he even practiced there for a part of the week. He led the Colts with 10 tackles (seven solo) despite playing just 39 snaps.
Bradley said this week that he has told Leonard the decisions about his playing time are based on impact plays, which coaches want to see more of. The Colts are making way for E.J. Speed to see more playing time because they like his range and playmaking ability.
Bradley also said he welcomes Leonard's questions and encouraged him to continue demanding more playing time.
But that wasn't enough to assuage Leonard.
"Everybody says they want you to keep that fight up until you step on toes," Leonard said. "… I honestly don't know what to do. I have put my best foot forward every day. I come in the building, do the best I possibly can to be the best leader I can be. I go out to practice. I practice extremely hard. I play extremely hard — do my job as well as I possibly can and just let the chips fall where they fall.
"I've just got to control what I can control. That is play well on the snaps that I play, and then I sit on the bench frustrated. And, when you get back out there, continue to do what I do."