[ad_1]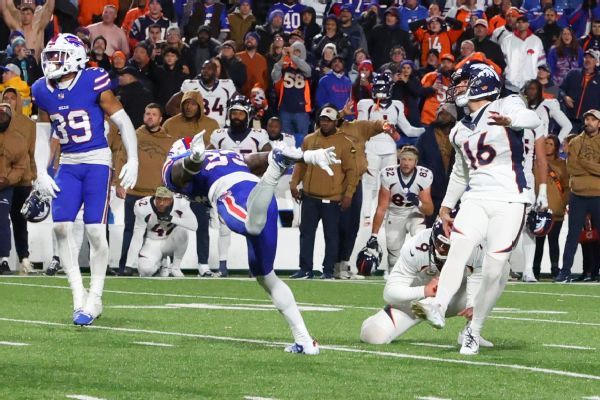 ORCHARD PARK, N.Y. — For 59 minutes and 36 seconds, the Buffalo Bills played a mistake-filled game against the Denver Broncos but still managed to do enough to establish a late one-point lead.
Then, as the seconds ticked off the clock in Highmark Stadium, the miscues and wrong steps caught up to them. A penalty for having an extra player on the field during a missed 41-yard field goal attempt by Denver kicker Wil Lutz held the door open for the Broncos to leave Buffalo with a 24-22 win.
"Absolutely, absolutely," Bills coach Sean McDermott said when asked if it was one of most inexplicable losses he had suffered. "We practiced two or three times that this week — the substitution from dime to field goal block. At the end of the day, we didn't execute it. So, it's inexcusable."
With the Bills up 22-21, Broncos quarterback Russell Wilson kneeled to the Buffalo 23-yard line with 24 seconds remaining and no timeouts. Denver quickly brought out its field goal unit.
The Bills switched from their dime defense to a field goal block package to match Denver and watched Lutz miss the 41-yard attempt.
That should have been game over. But the Bills didn't switch players well enough, and as the ball was snapped, there were 12 defenders on the field. After a 5-yard penalty, Lutz made the 36-yard field goal attempt that followed. Game over, but a Broncos win.
"You can't beat yourself in those situations," linebacker and special teams captain Tyler Matakevich said. "You got to make sure we're locked in, everyone knows what's going on. I mean, we practiced it. We just didn't execute it, and that's real, real frustrating. … There's some games, they're going to be ugly at times, you just got to find a way to win it, and unfortunately we just didn't come out."
Safety Damar Hamlin was running off the field late, but the Bills appeared to have an extra lineman out there for the entirety of the play. The Bills did not say exactly who was not supposed to still be on the field, and it's difficult to know if the same play was called on the second field goal attempt, but defensive end Leonard Floyd was the only player on the field for the missed kick but not on the field for the winning kick.
Matakevich said that the Bills knew the Broncos were going to kick quickly, and that the substitutes for the field goal block unit were on the sideline ready to go.
"I don't even know. We just, we messed it up, and unfortunately it cost us," Matakevich said.
For most of the game, the Bills' defense did its job despite the offense starting slow again in what has become a consistent trend. The defense held the Broncos to just six points off four Bills turnovers, and McDermott described the unit as giving the Bills a chance to win.
"That's a good offense, a talented offense, and you're going out there with five defensive starters out to begin with, and I thought those guys played their asses off," McDermott said.
The offensive mistakes, however, were devastating for the Bills. Despite averaging 7.1 yards per play and a season-high 4.1 yards per rush before contact, the offense got in its own way. Those four Bill turnovers tied a season high. Three of them came from quarterback Josh Allen, who had two interceptions and a fumble on an attempted handoff to running back James Cook. The first of those interceptions was on a dropped pass by wide receiver Gabe Davis, one of four drops on the night (also a season high).
"Sucks," Allen said of losing late. "Shouldn't have been in that position in the first place. A lot of bad football. A lot of bad football."
The Bills had three total fumbles, the other two by Cook — one on the very first play of the game and the second on a 42-yard run in the fourth quarter when he recovered his own fumble. Cook was benched for the ensuing three drives after the first play.
Allen now leads the NFL with 11 interceptions and has an interception in six straight games, becoming the first Bills quarterback to do so since Ryan Fitzpatrick in 2011.
"I think [Allen has] played well at times and then at times he hasn't, and you can't turn the ball over," McDermott said. "So, we've got to figure that out."
Ten of Allen's 11 interceptions this season have come on throws of 10-plus air yards, one shy of tying his career high (2018 and 2021). He completed just 15 of 26 passes for 177 yards despite being pressured on a season-low 19% of dropbacks. He also had one passing touchdown and one rushing touchdown. Allen was 10-of-21 with a touchdown and two interceptions against four or fewer pass-rushers, the first time he has completed fewer than half his passes against a standard rush since Week 17 in 2021.
The Bills have now dug a hole that will be difficult to get out of, sitting at 5-5 with the third-hardest remaining strength of schedule ahead in a competitive AFC.
"Yeah, I'm still confident," Allen said. "But it's no secret that the clock is ticking. Got to have some urgency now."
[ad_2]

Source link