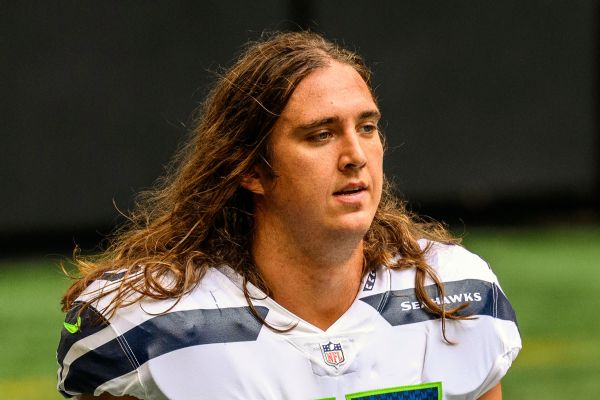 SEATTLE — Former NFL offensive lineman Chad Wheeler was found guilty Thursday of two counts of domestic violence from a 2021 incident with his then-girlfriend.
Wheeler, then a backup tackle with the Seattle Seahawks, was arrested in January 2021 after being accused of pinning the woman down and twice choking her until she lost consciousness. The woman, Alleah Taylor, told police that when she regained consciousness for the second time, Wheeler expressed surprise that she was still alive.
Taylor's injuries included a fractured humerus and dislocated elbow.
Responding to the verdict, Taylor posted on X later Thursday, "I finally have justice."
Wheeler, who has bipolar disorder, said he was experiencing a "manic episode" during the incident. Taylor said she was unsure whether the alleged assault was related to Wheeler's mental health. He pleaded not guilty to criminal charges of first-degree domestic violence assault, domestic violence unlawful imprisonment and resisting arrest.
Wheeler, who previously played for the New York Giants, was waived by the Seahawks after the incident and has not been signed to an NFL roster since then.
Wheeler's trial was pushed back several times as a result of continuances requested by the defense. A King County jury found him guilty of first- and second-degree assault/domestic violence. Wheeler was found not guilty of a third count of unlawful imprisonment.
According to a spokesperson with the King County Prosecuting Attorney's Office, the jury determined that Wheeler "used force or means likely to result in death," which allows the State to seek a mandatory minimum of five years for the first-degree assault charge. The second-degree assault charge carries an aggravator, based on the severity of Taylor's injuries, that allows the State to seek a sentence above the standard range.
Wheeler was taken into custody and is scheduled to be sentenced Dec. 14.