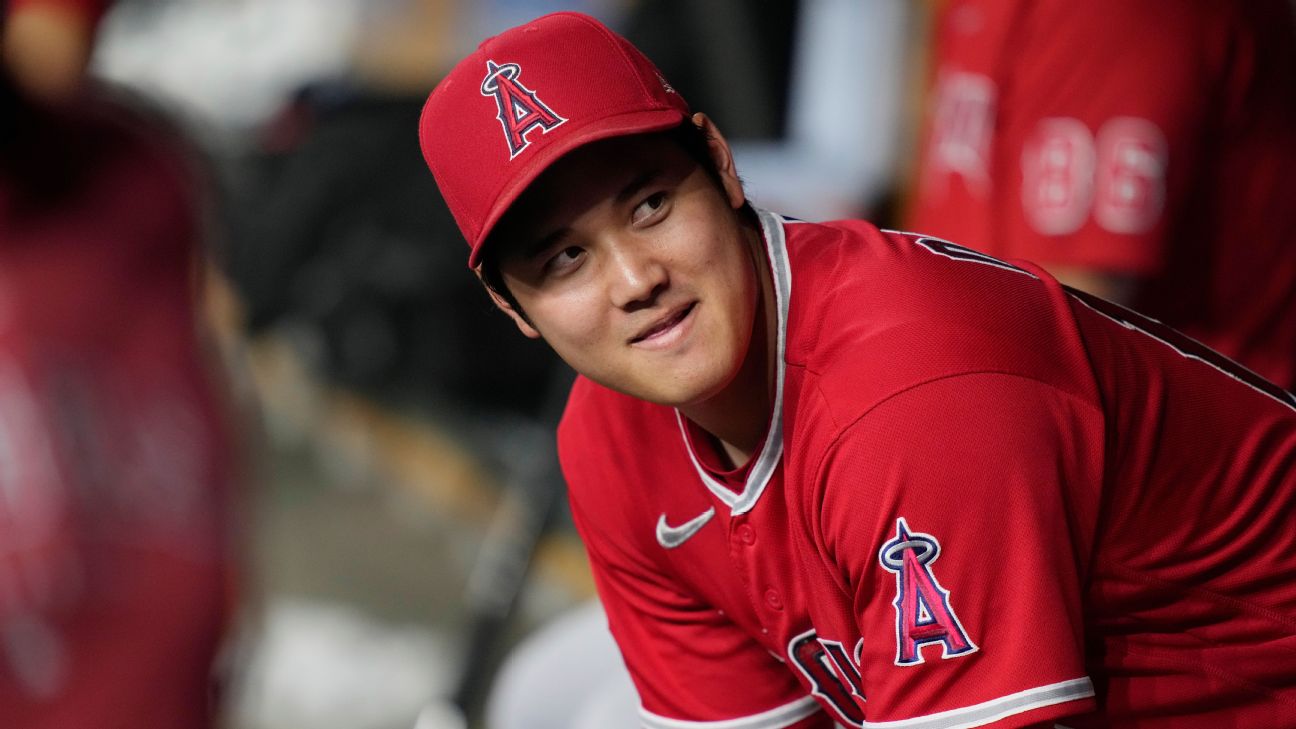 Shohei Ohtani, a captivating free agent coming off another historic two-way season, was named the American League's Most Valuable Player on Thursday, becoming the first player ever to win the award unanimously twice.
Ohtani, whose two victories have come within the last three seasons, received all 30 first-place votes by the BBWAA even though he did not pitch for most of the last two months of the Los Angeles Angels' season. Corey Seager and Marcus Semien, the Texas Rangers' star middle infielders, finished second and third, respectively.
Ohtani, 29, nonetheless led the major leagues with 9.0 FanGraphs wins above replacement (2.4 as a pitcher, 6.6 as an offensive player). He slashed .304/.412/.654 in 599 plate appearances as a hitter, leading the AL in home runs (44) and the majors in OPS (1.066) while adding 20 stolen bases.
In 23 pitching starts, Ohtani went 10-5 with a 3.14 ERA, striking out 167 batters and issuing 55 walks in 132 innings.
"Obviously I wanted to win it last year, but [Aaron] Judge had a spectacular season and, deservedly so, he won it," Ohtani, speaking through an interpreter, told MLB Network on Thursday evening. "So I wanted to come back stronger and try to win it this year, and I know my rivals, Semien, Seager, they had great seasons, and congrats to them for winning the World Series. I think it's awesome.
"My goal was to try to come out on top, and this kind of pays off all my hard work."
Ohtani arrived in the United States with great fanfare surrounding his two-way prowess in the winter of 2017, choosing the Angels after receiving interest from virtually every team. But his first three years were hampered by Tommy John surgery, knee surgery and a COVID-19-shortened season, limiting him to mostly serving as a designated hitter.
Beginning in 2021, though, Ohtani simultaneously performed at an elite level as both a pitcher and a hitter, becoming the first to do so since Babe Ruth's brief attempt at a dual role a century ago.
Ohtani won the AL MVP unanimously in 2021, then finished as the runner-up in the wake of Judge's record-breaking home run season in 2022 before capturing the honor again in 2023.
All told, Ohtani has batted .277/.379/.585 with 124 home runs, 290 RBIs and 57 stolen bases from 2021 to 2023, but he also won 34 games, posted a 2.84 ERA and struck out 542 batters in 428 1/3 innings as a pitcher.
Ohtani learned that he had re-torn his ulnar collateral ligament near the middle of August of this past season but he continued to hit. Shortly after the Angels' season ended, he underwent what is considered a hybrid version of another Tommy John surgery.
"As far as the rehab — it's going really great so far, going really well," Ohtani said through his interpreter. "It feels a lot better and faster than the first time I had this surgery. But at the same time, I can't rush. I have to take everything slow and take all the right steps. My plan is to come back strong next year."
In a statement, Dr. Neal ElAttrache, the orthopedic surgeon who performed the surgery, wrote that Ohtani will be ready to hit at the start of the 2024 season and resume a two-way role by 2025.
Questions once again surround Ohtani's pursuit of that — but executives throughout the industry still expect him to garner a free-agent contract that reaches $500 million.