[ad_1]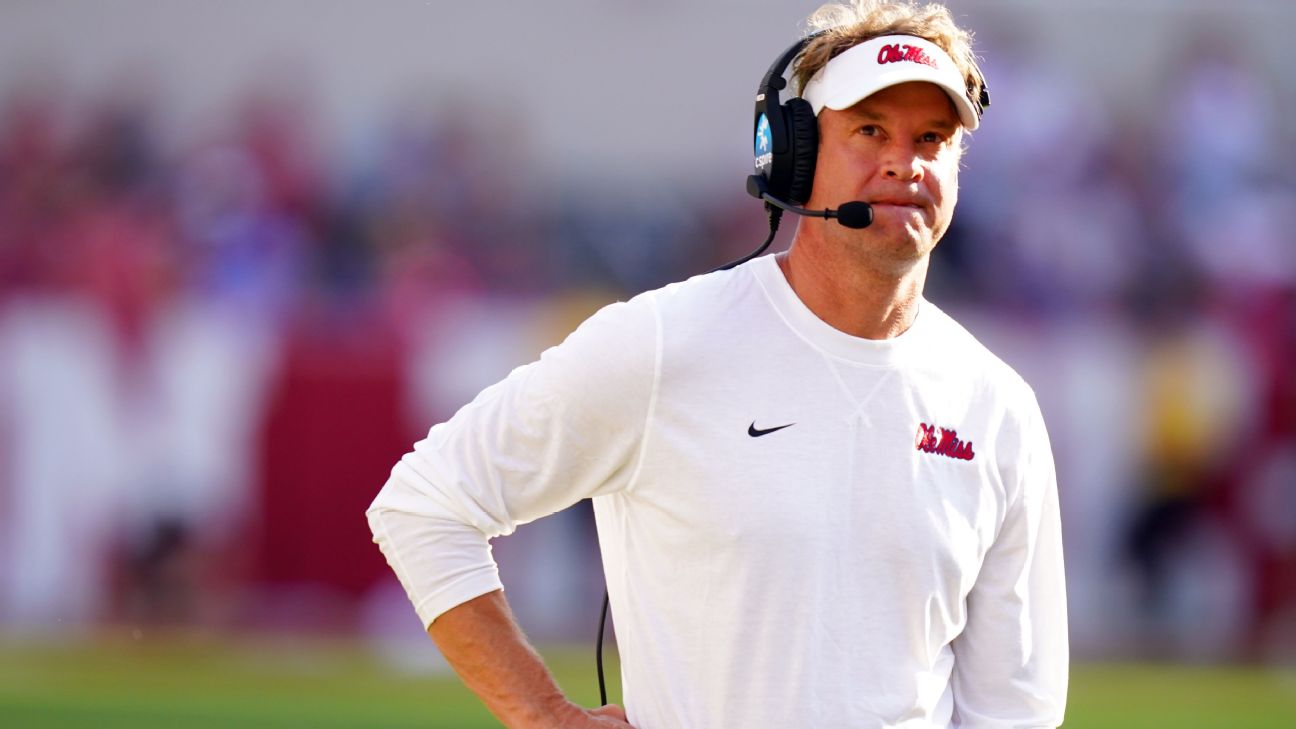 Attorneys for Ole Miss and football coach Lane Kiffin filed a motion Wednesday to dismiss a lawsuit a player filed against them in September, according to court documents.
Ole Miss defensive tackle DeSanto Rollins, who said he was kicked off the team for missing practices and meetings during a "mental health crisis," is suing the university and Kiffin for failure to provide equal protection, racial and sexual discrimination, and multiple other allegations, according to the lawsuit.
In a written brief in support of Kiffin, his attorneys argued that Kiffin and Ole Miss "are immune" from some of Rollins' claims and that "his remaining allegations fail to state a claim upon which relief can be granted."
Rollins, a backup lineman whose career has been marred by injuries, is seeking $10 million in compensatory damages and $30 million in punitive damages.
The lawsuit alleges that Kiffin intentionally took adverse action against Rollins "on account of race for requesting and taking a mental health break, but not taking adverse action against white student-athletes" for the same request. It alleges sexual discrimination on the basis that Ole Miss has not taken "adverse action against female student-athletes for requesting and taking a mental health break."
The attorneys echoed Kiffin's only statement on the matter, which was that Rollins was never kicked off the team.
"While Plaintiff alleges Kiffin 'has never kicked a white football player off the team for requesting or taking a break,' he does not allege any white football player requested a 'mental health break' or refused to meet with Kiffin for three weeks," the document stated.
"Plaintiff also alleges Kiffin 'allowed a white football player who had been removed from the team to return to the team,' but he does not allege this other player was 'removed' from the team under similar circumstances. Further, Plaintiff himself has not been removed from the team, so even assuming there were white football players who were similarly situated, Plaintiff received the same treatment."
On Feb. 27, 2023, Rollins met with Kiffin, who informed Rollins he was moving from defensive tackle to the scout team's offensive line because he wouldn't transfer. According to the lawsuit, Rollins asked Kiffin if this was "a choice or a command." Rollins alleged that Kiffin told him "if he didn't like it, then he should quit."
At that point, Rollins told Kiffin he was going to take "a mental break," according to the lawsuit.
Rollins, despite repeated requests from the football staff, didn't meet again with Kiffin until March 21. During the meeting, Rollins legally recorded Kiffin without his knowledge, and a copy of the transcript was included in the lawsuit. ESPN obtained a copy of the audio in September.
"Ok, you have a f—ing head coach. This is a job. Guess what? If I have mental issues — and I'm not diminishing them — I can't not see my f—ing boss," Kiffin said, according to the lawsuit and the audio recording. "When you were told again and again the head coach needs to see you, [it] wasn't to make you practice, [it] wasn't to play a position you don't f—ing want to, OK? It was to talk to you and explain to you in the real world, OK? So I don't give a f— what your mom [says], OK, or what you think in the real f—ing world, you show up to work. And then you say, 'Hey, I have mental issues. I can't do anything for two weeks. But if you change my position I won't have mental issues.'
"I guarantee if we f—ing called you in and said you're playing defense, would you have mental issues?"
Answered Rollins: "I definitely would."
During the audio exchange, Rollins is heard saying, "I mean, you're acting like my issues aren't real."
"I didn't say they're not real," Kiffin responded. "You show up when your head — when your boss — wants to meet with you. It wouldn't have been like this … if you would've come here when you kept getting messages [that] the head coach wants to talk to you. And you say, 'I'm not ready to talk to him.'"
Said Rollins: "I wasn't."
"What f—ing world do you live in?" Kiffin asked.
Answered Rollins: "I don't see why you have to be disrespectful, honestly."
"Get out of here," Kiffin said. "Go. You're off the team. You're done. See ya. Go. And guess what? We can kick you off the team. So go read your f—ing rights about mental health. We can kick you off the team for not showing up. When the head coach asks to meet with you and you don't show up for weeks, we can remove you from the team.
"It's called being a p—y. It's called hiding behind s— and not showing up to work."
In response to Rollins' allegation that Kiffin subjected him to a "hostile educational environment," the attorneys wrote that "the only factual allegations supporting this claim are Plaintiff's claims that Kiffin yelled at him. The Fifth Circuit has held that derogatory words, without more, cannot give rise to an equal protection claim."
Kiffin declined to comment, deferring to the university's original statement.
"DeSanto was never removed from the football team and remains on scholarship," Ole Miss wrote in a statement issued through a school spokesperson. "In addition, he continues to have the opportunity to receive all of the resources and advantages that are afforded a student-athlete at the university."
[ad_2]

Source link