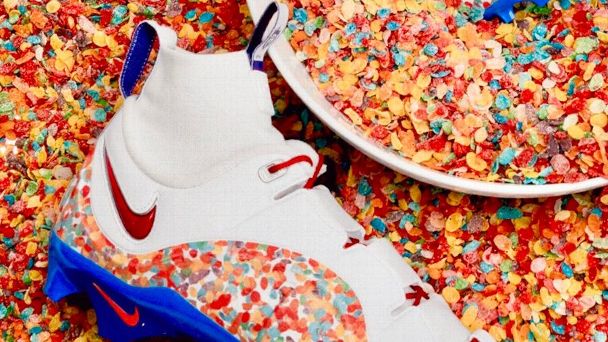 The Cincinnati Bengals' Ja'Marr Chase and the Arizona Cardinals' Kyler Murray received special gifts from LeBron James on Monday.
The Los Angeles Lakers star sent the Bengals wide receiver and Cardinals quarterback Fruity Pebbles-themed cleats based on the Nike LeBron 4 shoes released in 2006. Chase posted an unboxing video on his Instagram story.
"These clean as hell," Chase said while unboxing the cleats on his Instagram story. "Good looks. Appreciate you, LeBron."
The gear was packaged with an illustration of James dunking over Fred Flintstone, the main character of "The Flintstones."
Chase and Murray also received custom Fruity Pebbles cereal boxes. Chase's "Ja'Marr Pebbles" box featured him on the cover in the Bengals' all-white uniform, while Murray's "Kyler Pebbles" had him in a similar icy white look.
LeBron James gifted NFL star Ja'Marr Chase with a "Fruity Pebbles" LeBron 4 Cleat & custom "Ja'Marr Pebbles" cereal box.

The cleats are a re-make of one of @KingJames' earliest Nike PEs back in 2006, and will release as a cleat in Spring 2024. pic.twitter.com/xeANgmovWP

— Nick DePaula (@NickDePaula) November 13, 2023
Kyler Murray also got a pair of "Fruity Pebbles" Nike LeBron 4 Vapor Edge cleats and custom Kyler Pebbles cereal 🔥 https://t.co/bGdgXkakUb pic.twitter.com/1GjVREU1eD

— Nice Kicks (@nicekicks) November 14, 2023
The Nike LeBron 4 Vapor Edge cleats are set to release in spring 2024. They are based on PE editions of James' basketball shoes released in 2006 that were inspired by his favorite cereal growing up — Fruity Pebbles.
This isn't the first time that James and his retro sneakers have made headlines on the gridiron.
Earlier this season, USC Trojans quarterback Caleb Williams wore a pair of Nike LeBron 4 cleats against the Colorado Buffaloes. James also gifted cleats to the Ohio State Buckeyes for their matchup against the Penn State Nittany Lions that were inspired by the Nike LeBron 4 Graffiti colorways.
.@KingJames always brings the 🔥 for the Buckeyes 👑 pic.twitter.com/q0kjSuGWTE

— Ohio State Football (@OhioStateFB) October 19, 2023