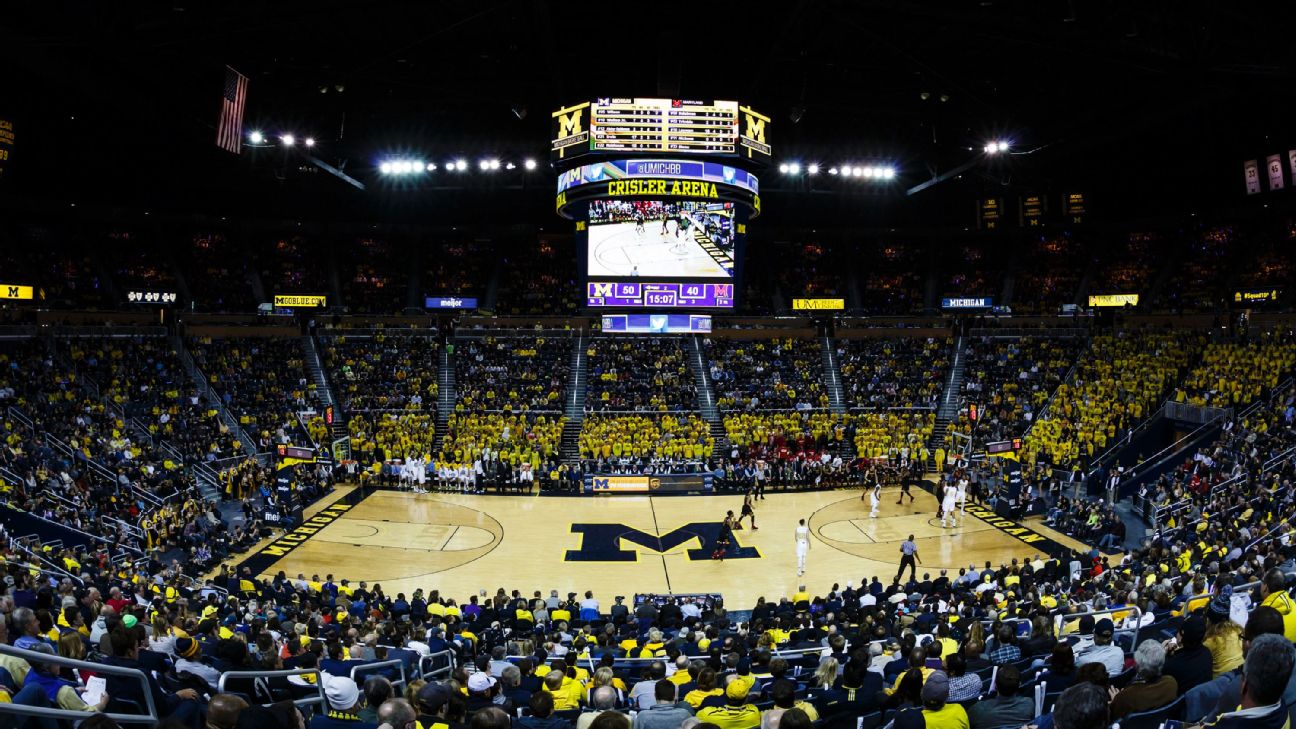 Michigan carried over its on-court momentum to the recruiting trail Sunday, landing top-25 senior Khani Rooths — the Wolverines' highest-ranked recruit since the 2021 class.
Rooths chose Michigan over Georgia and Florida State. The Bulldogs were the perceived favorite for most of the past couple months, but Michigan hosted Rooths on a visit last weekend and coach Juwan Howard was able to convince him to join the Wolverines.
"I have a special relationship with the staff and Coach Howard," Rooths told ESPN. "The team and program had a family atmosphere to it. My mom said it reminded her of when I went to middle school at JWA in Washington, D.C. Coach Howard is a father figure to me. He gives me advice both off the court and on the court. Coach Howard will help me grow as a better man."
Along with Howard, Rooths has a strong relationship with fellow Washington, D.C.-area products Dug McDaniel, who hosted him on his visit, and Terrance Williams. He also pointed to Isaiah Livers and Franz Wagner as similar players who played at Michigan and went on to become NBA players.
"They have had players like me drafted at the wing position," Rooths said. "I know this is a great opportunity for me to play at Michigan."
A 6-foot-8 forward from IMG Academy (Florida), Rooths is ranked No. 23 in the ESPN 100 for the 2024 class. He is ranked as the No. 4 power forward in the country but is capable of playing either forward position.
Rooths shows fluid movement when attacking the basket and explosiveness near the rim. He brings a lot of versatility, contributing as a finisher, defender and scorer. He plays both inside and out with effectiveness. Defensively, Rooths will guard the ball with lateral ability and length, contest shots, and rebound with the ability to take the ball and push it himself on the break. He is an alert defender and gets his share of deflections, steals and blocks. When Rooths is aggressive attacking the basket, he can score or get to the free throw line at a high rate, and while his perimeter skills are progressing, he is most comfortable and impactful inside the arc.
Michigan now has three recruits in its 2024 class, with Rooths joining four-star guards Durral Brooks and Christian Anderson.
The Wolverines opened the 2023-24 season with blowout wins over UNC Asheville and Youngstown State and will travel to Madison Square Garden to take on St. John's on Monday.