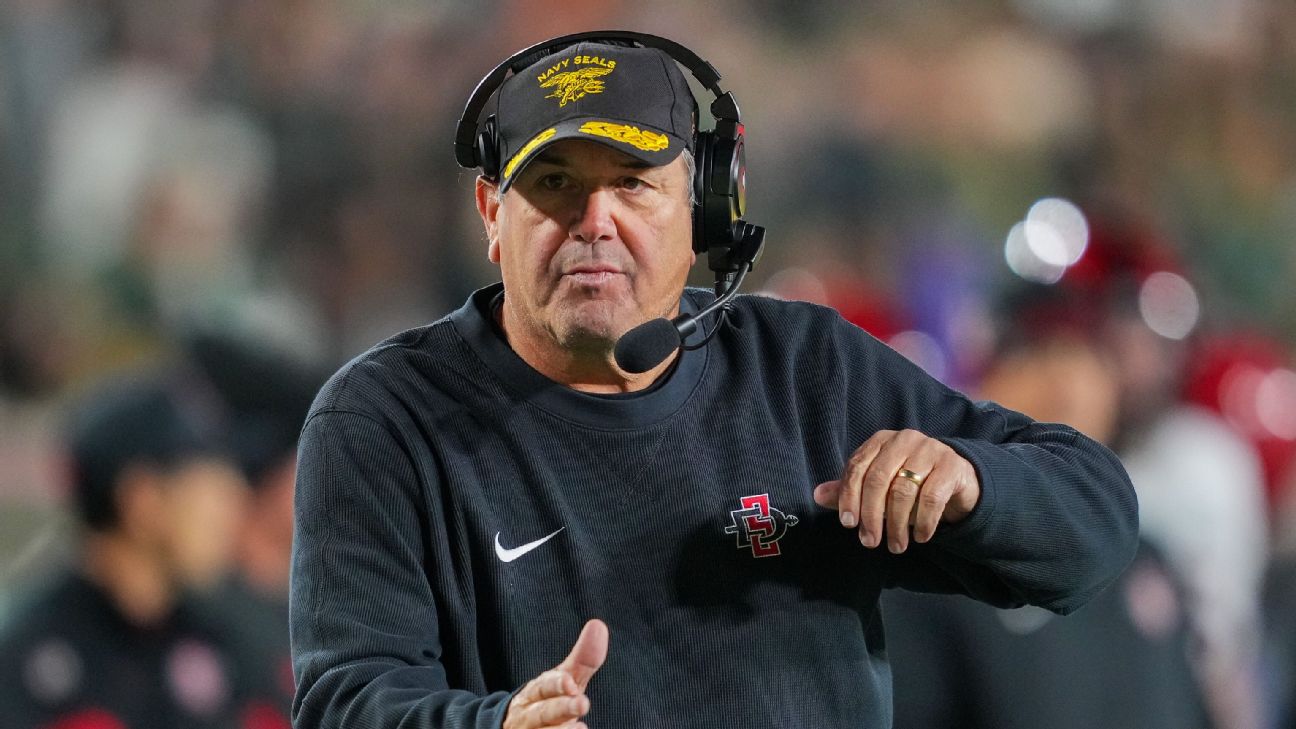 San Diego State football coach Brady Hoke will retire at the end of the season, he announced Monday.
Hoke, who is in his second stint as the Aztecs' coach, took over before the 2020 season after previously having led the program from 2009-10. He has a combined 39-31 record over those two stints and has twice been named Mountain West coach of the year.
He was also the head coach at Michigan (2011-14), Ball State (2003-08) and served as the interim coach at Tennessee for two games in 2017. Overall, he is 104-91 as a head coach. He also has been named coach of the year in the Big Ten (2011) and Mid-American (2008).
"I am proud of what we accomplished at San Diego State," Hoke, who turned 65 on Nov. 3, said in a statement. "I am grateful to all the great student-athletes I've had the chance to work with, molding them into men, husbands, fathers and pillars in the community. I will always cherish my time leading this program. I'd also like to thank the wonderful staff I've worked with and wish them the best in the future."
SDSU is 3-7 this season and will finish with its first losing record — both overall and in Mountain West play — since 2009. Hoke has a 39-31 record across six seasons at the school.
In 2021, Hoke led the Aztecs to a school-record 12 wins. He took over for Rocky Long, who coached the team for the nine seasons between Hoke's separate times in charge. In 2019, Hoke returned to SDSU as an assistant under Long.
"I am very appreciative for the work Brady Hoke has done with our football program at San Diego State both on and off the field," SDSU athletic director John David Wicker said in a statement. "Brady set the standard in 2009 when he first arrived on The Mesa that we now hold ourselves too. However, it's more than wins and losses. Brady created a culture, led our program thru COVID, played two entire seasons in Carson, including a 12-win campaign, and takes seriously the development of young men off the field as well as on."
SDSU opened 35,000-seat Snapdragon Stadium in 2022 and had been a potential target for conference expansion prior to the implosion of the Pac-12. The Aztecs finish the season with games against San Jose State and Fresno State.