[ad_1]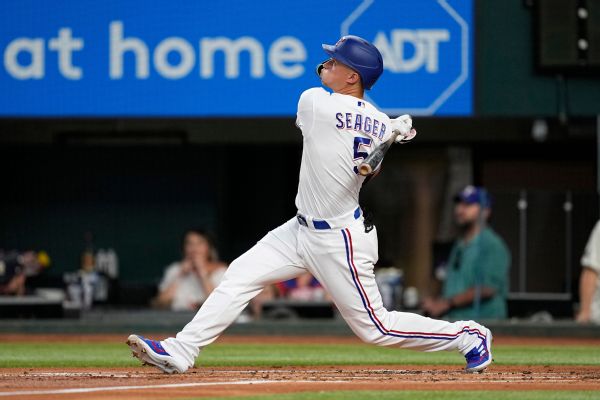 Corey Seager and Marcus Semien of the World Series champion Texas Rangers won Silver Slugger Awards on Thursday night, while the team received the first American League Offensive Team of the Year honor.
Louisville Slugger presented the Atlanta Braves with the inaugural National League Offensive Team of the Year award as determined by a combination of offensive statistics and a fan vote for finalists between Sept. 25-Oct. 1.
Both the Rangers and Braves led their leagues in runs, hits, home runs, RBIs, batting average, slugging percentage and OPS.
Shortstop Seager collected his third Silver Slugger, having won in the NL with the Los Angeles Dodgers in 2016 and 2017. Second baseman Semien previously won in 2021 with the Toronto Blue Jays.
First baseman Matt Olson, an All-Star in his second season with the Braves, earned his first Silver Slugger, while teammate Ronald Acuna Jr. collected his third in the outfield, and third baseman Austin Riley got his second.
Sixteen teams were represented, with Atlanta, Baltimore and Texas having multiple winners. Orioles catcher Adley Rutschman and rookie Gunnar Henderson, as a utility player, each won for the first time.
NL batting champion Luis Arraez (.354) of the Miami Marlins won his second in a row after winning in 2022 with the AL's Minnesota Twins. AL batting champion Yandy Diaz (.330) of the Tampa Bay Rays won his first.
Dodgers outfielder Mookie Betts led the 2023 winners with his sixth Silver Slugger (2016, 2018-20, 2022-2023).
The full list of winners is below:
American League
C: Adley Rutschman (Baltimore)
1B: Yandy Diaz (Tampa Bay)
2B: Marcus Semien (Texas)
SS: Corey Seager (Texas)
3B: Rafael Devers (Boston)
OF: Kyle Tucker (Houston), Julio Rodriguez (Seattle), Luis Robert Jr. (Chicago)
DH: Shohei Ohtani (Los Angeles)
UTIL: Gunnar Henderson (Baltimore)
National League
C: William Contreras (Milwaukee)
1B: Matt Olson (Atlanta)
2B: Luis Arraez (Miami)
SS: Francisco Lindor (New York)
3B: Austin Riley (Atlanta)
OF: Ronald Acuna Jr. (Atlanta), Mookie Betts (Los Angeles), Juan Soto (San Diego)
DH: Bryce Harper (Philadelphia)
UTIL: Cody Bellinger (Chicago)
[ad_2]

Source link