Y-brush and its electric mouthpiece
Some people might find it rigorous to clean their teeth using a toothbrush, even the electric ones found in their homes, since they have to move their arms and it takes longer to brush their teeth. French startup Y-Brush thinks it shouldn't be laborious and devises a smiling electric toothbrush that vibrates in the mouth and cleans teeth in 10 seconds.
Users fill in the mouthpiece with toothpaste, plug the vibrating device in their mouth, and wait for five to ten seconds per jaw to brush their teeth. The company suggests that the users lightly move the brush handle while the throbbing mouthpiece washes away the dirt from their teeth to make sure that the device cleans out all parts including the end molars.
The electric toothbrush is injected with 35,000 soft nylon toothbrush bristles on the brush head and the material of the brush head is made of thermoplastic elastomer, similar to food-grade silicone. The reusable materials make it easy for the users to clean the electric toothbrush just by thumbing through the bristles and parts that are covered with toothpaste.

images courtesy of Y-Brush, via Rempli Tokyo
Electric mouthpiece toothbrush with 35,000 bristles
Y-Brush believes that soft nylon bristles might be the most effective medium to remove plaque and clean teeth compared to other materials such as silicone. This results in the design team planting 35,000 soft nylon toothbrush bristles for its Y-Brush electric mouthpiece toothbrush.
By making the bristles thin, the electric toothbrush is able to the gaps between the teeth and gums. They are also rounded to keep the user's gums safe and refrained from bleeding. The two-part electric toothbrush has a detachable head for easy cleaning and has a four-mode vibration setting for the rechargeable handle.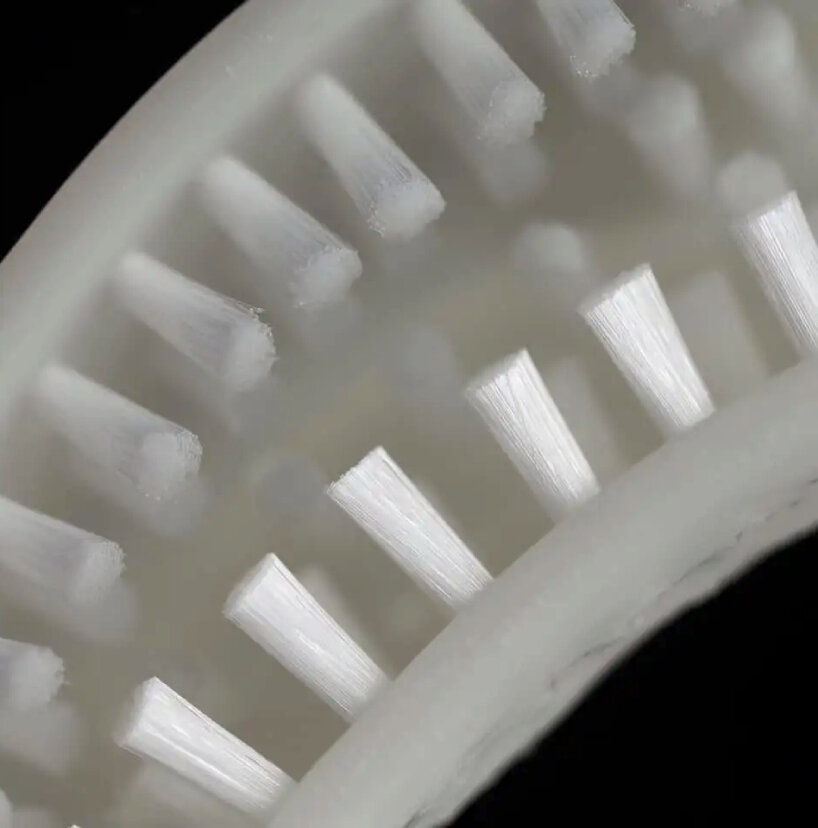 35,000 soft nylon bristles
Battery can last up to three months
The sonic vibrations whose frequency varies between 20 Hz and 20,000 Hz are generated by the bell-shaped handle. The rechargeable stem has a USB port, and a single charge, which may take around two hours, can last up to three months with three times of use per day.  Y-Brush is also offered in two sizes – medium and small – to suit the user's needs depending on their age.
The electric mouthpiece toothbrush also comes in four modes, depending on the model, that corresponds to the level of sonic vibrations. The detachable and rechargeable electric mouthpiece toothbrush keeps travelers in mind with its compact size, so it doesn't take up too much space in the luggage. Y-Brush also bagged the Innovation Awards at CES 2023.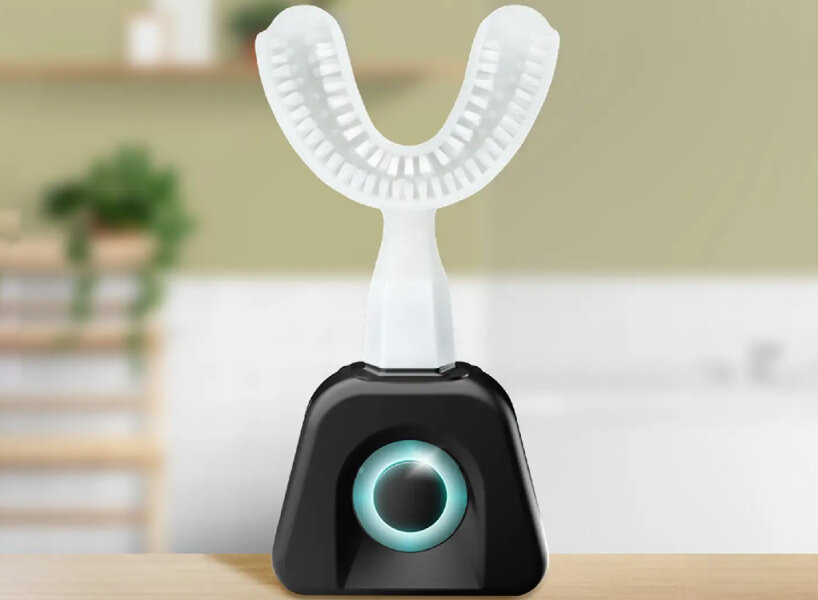 Y-Brush's charge can last up to 3 months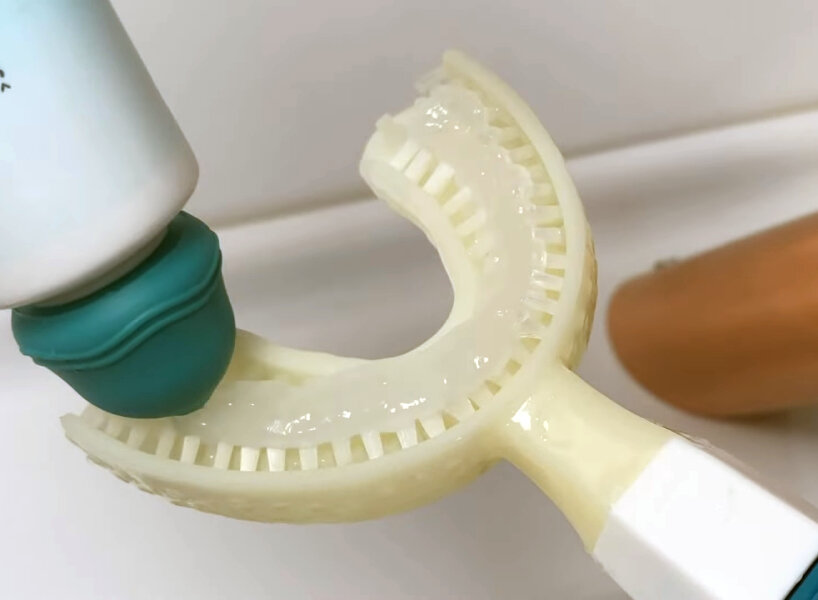 adding toothpaste in the mouthpiece part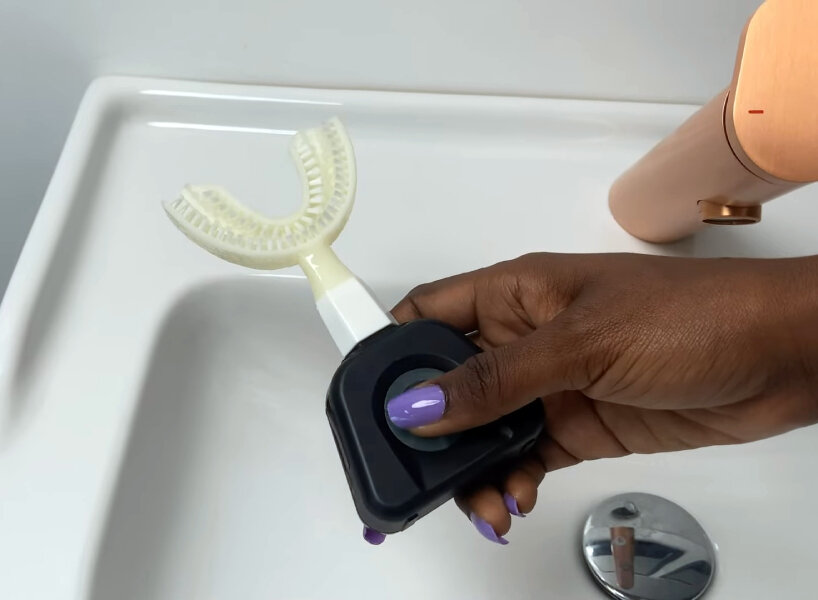 the button activates the vibration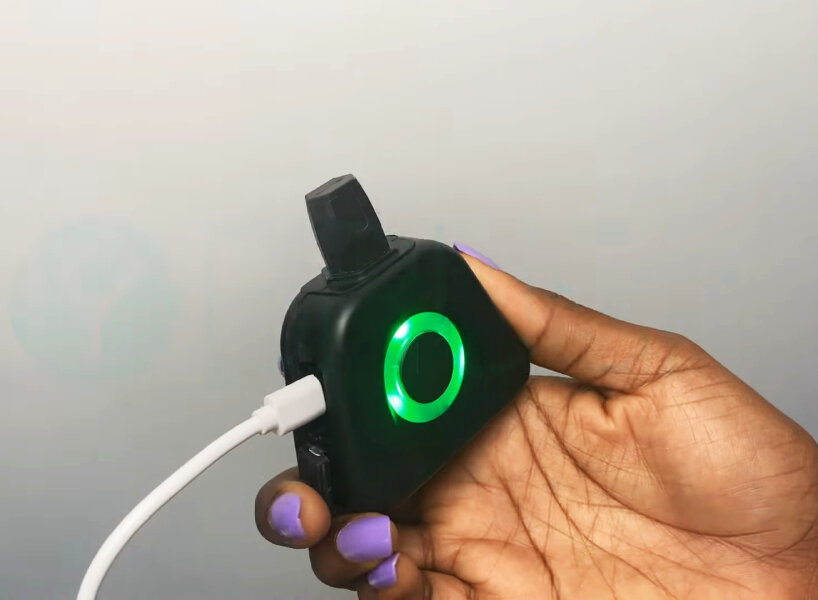 the device can be charged using a USB cable
project info:
name: Y-Brush
company: Y-Brush
matthew burgos | designboom
feb 28, 2023