[ad_1]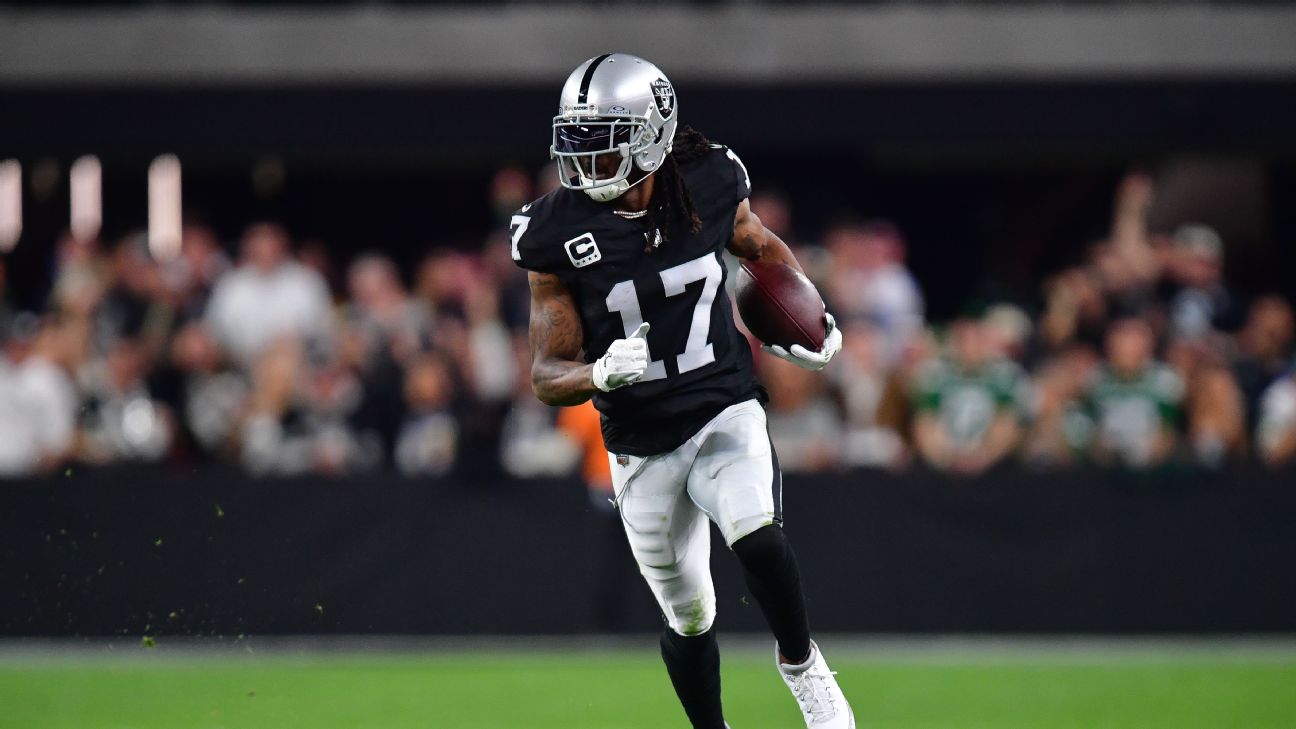 The New York Jets' search for answers on offense will extend into the offseason, when they likely will revisit a target they've had their eyes on since last summer.
The Jets inquired about reuniting Las Vegas Raiders Pro Bowl receiver Davante Adams with Aaron Rodgers before last month's trade deadline, only to be quickly rebuffed.
But the Jets might not be willing to take no for an answer, as sources around the NFL expect that New York will pursue Adams again this offseason, trying once and for all to pair him with Rodgers.
"That will happen," one source predicted to ESPN. "I think so."
Sources believe that whether the Raiders consider trading Adams could depend on how their season finishes. Since naming Antonio Pierce as interim head coach, the Raiders (5-5) have won two straight games and garnered recognition and respect from around the league, while Adams has looked and sounded extremely happy.
If the Raiders, who visit the Dolphins on Sunday, can continue their winning ways and prove they are headed in the right direction, Adams might want to remain a part of the organization and stay in Las Vegas, where he has enjoyed living.
But if the Raiders struggle down the stretch and Adams thinks a Rodgers reunion in New York enhances his chances of winning, he ultimately could wind up requesting a trade.
Adams and Rodgers have great admiration and respect for one another, and the former Packers teammates spent last weekend connecting in Las Vegas, with Adams posting a photo to social media of the time that the two spent together.
The Jets have been watching and tracking Adams since they landed Rodgers earlier this year. New York's most recent effort to acquire Adams came last month, as the Jets were waiting for the right moment to reach out to the Raiders about the three-time All-Pro wide receiver.
But the Raiders, less than a day removed from a loss to the Lions on Monday Night Football and just hours before firing coach Josh McDaniels and general manager Dave Ziegler, told the Jets before the Oct. 31 deadline that they were not interested in trading Adams. Another source told ESPN before the deadline that there "was no chance in hell" that Las Vegas would trade away the six-time Pro Bowler.
Adams, 30, has 57 catches for 659 yards and three touchdowns this season, his second with the Raiders.
The Jets (4-5) enter Sunday's road game against the AFC East rival Bills with the league's 29th-ranked total offense and have averaged just 16 points per game, the third-lowest in the NFL. The Jets offense has not scored a touchdown since their 13-10 victory over the Giants on Oct. 29.
[ad_2]

Source link