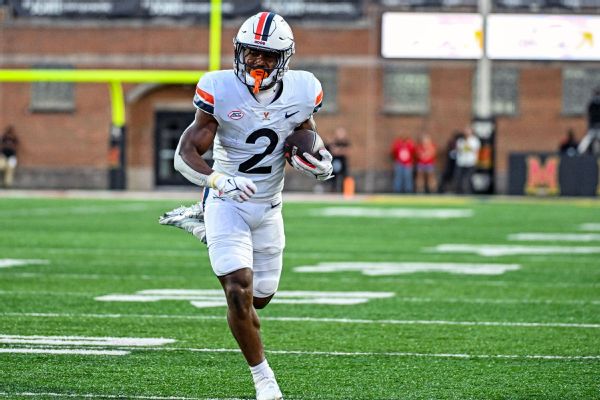 Virginia running back Perris Jones was moving all of his extremities after taking a helmet-to-helmet hit late in the third quarter against Louisville on Thursday night.
Jones was taken to the University of Louisville hospital after the hit and school officials said he had regained movement in all of his extremities sometime after arriving there.
Coach Tony Elliott said in an earlier postgame press conference that he was getting "encouraging" news from the hospital regarding Jones' condition. He added that Jones was getting an MRI at the hospital but didn't offer any specifics beyond that.
Jones had taken a swing pass and started running up field when he was hit. Jones fumbled on the play and fell forward in a pile of multiple Louisville players. Because the play happened near the Louisville sideline, Louisville trainers immediately ran out to offer assistance. Virginia receiver Malik Washington picked up the fumble and scored a touchdown, but the attention was already on Jones, as officials from both teams huddled around him.
Virginia players, some in tears, took a knee as they watched on in stunned silence. Jones is roommates with fellow running back Mike Hollins, who survived a shooting that killed three of their teammates last November. The one-year anniversary of the deaths of Devin Chandler, Lavel Davis Jr. and D'Sean Perry is Monday.
Jones was eventually placed on a cart, completely immobilized. Hollins was among the players to get closest to the cart before it drove off. On the white tape Hollins wears on the back of his arms was Perry's number 41.
Jones will remain in UofL Hospital overnight for observation, per the team.
Earlier, ESPN's Harry Lyles Jr. reported on the game broadcast that Virginia athletic director Carla Williams greeted Jones near the stadium tunnel and gave him a pat on the arm before he was loaded into the ambulance.
"It's a very, very difficult reality of the sport that we play," Elliott said. "Every play can end that way. You don't wish that for anybody and I know one thing, PJ's a tough young man. He lays it on the line every time he goes out there for this football team. Believing and praying he's going to have a full recovery. I'm putting that in the Lord's hands and I'm asking for that in advance, and believing that's going to be the case."
The fumble recovery score on the play in which Jones was injured gave Virginia a 21-14 lead, but Louisville rallied in the fourth quarter to win 31-24 — the fifth game this season the Cavaliers have lost by a touchdown or less.
"Nobody wants to see it, and it's tough to get back motivated, but I believe the guys responded," Elliott said. "We just didn't make a couple plays at the end that we needed to make."