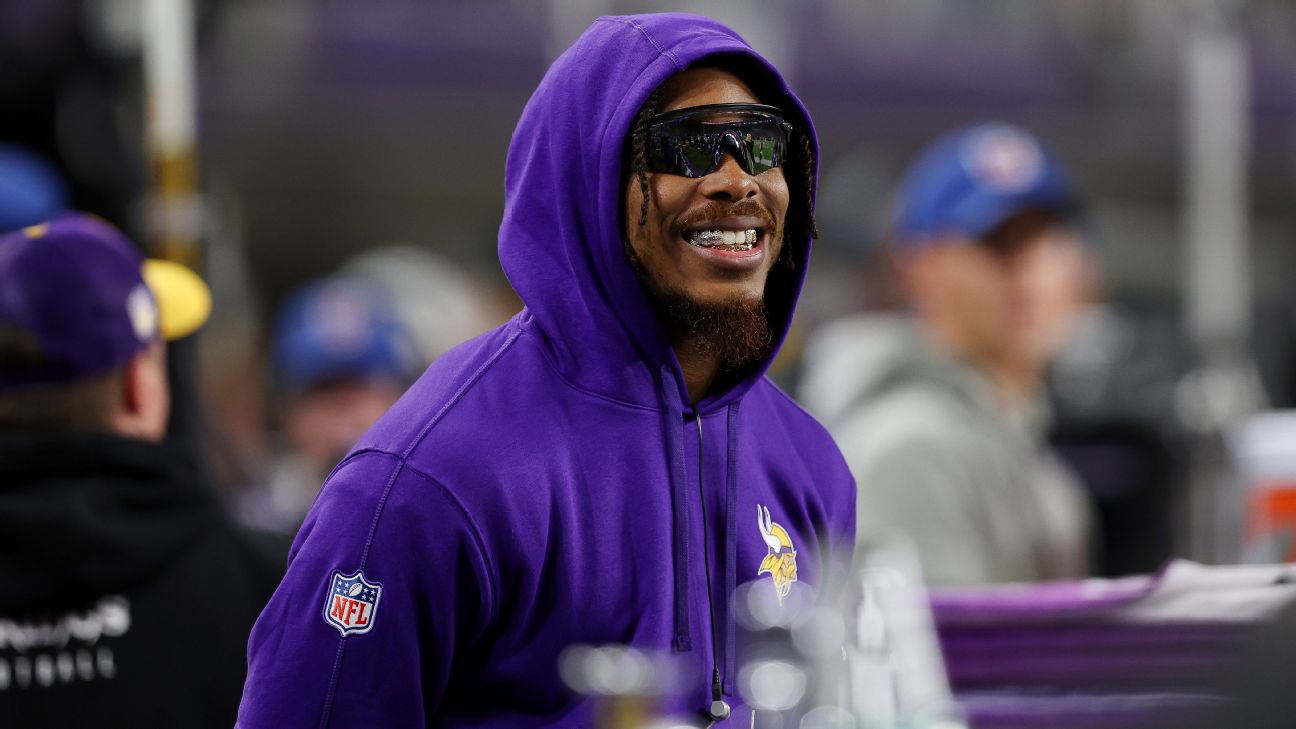 EAGAN, Minn. — The Vikings and All-Pro receiver Justin Jefferson are on the same page: Although his window for returning to practice opened this week, Jefferson won't play in a game until his injured right hamstring is fully healed.
"The hamstring is a difficult injury just because it lingers and it comes back from time to time if you don't put the right treatment into it," Jefferson said Thursday, his first public comments since suffering the injury Oct. 8.
"The guys and the rest of the coaching staff in this building know my worth on the field and they want me at 100 percent, as I do as well. I don't want to go out there at 80 or 90 percent and have the chance of hurting it again. It's just day-to-day, and when that time comes, I'll definitely be ready to step out there."
Vikings coach Kevin O'Connell has expressed similar sentiments throughout the initial stages of Jefferson's recovery, during which the team has won four consecutive games to pull into the NFC playoff race. O'Connell said this week that it would be "a little aggressive" to plan on Jefferson returning for Sunday's game against the Saints, pushing his earliest possible return to Nov. 19 at the Broncos. The deadline for the Vikings to add him to their active roster is Dec. 6, which is during their bye week.
Jefferson, however, said it is a "no-brainer" that he will return as soon as he is ready, no matter what position the Vikings are in at that point. Since his injury, the Vikings have lost their top three quarterbacks — Kirk Cousins, Nick Mullens and Jaren Hall — to injury. Of Jefferson's 360 career catches, 354 have been thrown by Cousins.
Jefferson also is continuing under the terms of his rookie contract after he and the Vikings failed to reach agreement this summer on a contract extension.
But, he said, "I'm always going to want to play football, whether we didn't win a game or if we had won every single game this season."
Jefferson added: "I love the game of football. I always say that I want to be a Hall of Famer so I can't just sit out, missing games just for the fun of it, or just because we aren't doing well. I know I have a big role on this team, and I know that every chance that I get to be on that field, I want to make the most of those opportunities."
Jefferson suffered the injury after slipping on the slit-film artificial turf at U.S. Bank Stadium, which is due to be replaced after this season. Slit-film turf has a higher rate of noncontact lower body injuries in NFL stadiums, according to data compiled jointly by the league and the NFL Players Association.
Slit-film turf in two stadiums — MetLife Stadium (Giants/Jets) and the Lions' Ford Field — was replaced last offseason.
Jefferson said Thursday that the turf at U.S. Bank Stadium "could have been a slight issue" in the injury but added: " I'm not going to blame it on turf."
Ultimately, though, his determination to return at 100 percent will alleviate any concerns about the turf.
"I don't want to have any doubts on my mind that it's going to come back and continue to linger throughout the season," he said. "I feel like that's kind of the main objective to get to 100 percent."